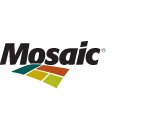 Job Information
The Mosaic Company

Research Engineer

in

Belle Plaine

,

Saskatchewan
Who is Mosaic?
The Mosaic Company (www.mosaicco.com), NYSE: MOS, headquartered in Minneapolis, Minnesota, is a $10 billion company that stands alone as one of the world's leading producers of concentrated phosphate and potash crop nutrients. Our world-class mining and processing operations produce the highest quality fertilizer and animal feed ingredients. As a global leader in nourishing crops and delivering distinctive value to the world's agriculture, Mosaic offers an opportunity to share in an exciting future.
What are our Values?
We consider our employees to be our most valued ingredient. Mosaic employees are richly diverse in their skills, experience and backgrounds. From engineering, operations, finance, HR, marketing and research, our team came to Mosaic not just for a job but a career that makes a positive impact on the world by nourishing the crops our growing population needs.
Are you our next Team Member?
We are currently seeking a Research Engineer (I or II) at our Belle Plaine, SK location. The successful candidate will have an understanding of production operations and engineering to combine with continuous improvement and innovation. The incumbent must be able to integrate new technologies and developments with existing processes. Communication, creativity, relationship building and leadership qualities are a must.
What will you be working on?
Contribute to the attainment of research goals by conducting all project phases. Phases include planning of experiments, execution of plans and interpretation of results from laboratory to pilot scale. Goal categories can include process improvement and modifications, capital equipment selection, environmental stewardship, process commissioning, product quality and technology transfer.

Utilize effective written, oral and presentation skills to convey research findings through monthly reporting, technical peer review presentations and regular meetings with project stakeholders.

Act as a technical services group representative in the potash business unit, facilitating technology transfer and sharing of new ideas. Contribute to the technical capabilities of other departments by advising, consulting and providing technology demonstration support. Identify opportunities for new research initiatives aligned with Mosaic's strategic priorities. Creative and innovative ideas are fostered and encouraged.

Assist in developing and maintaining competent personnel through mentorship. Initiate and participate in training courses including laboratory techniques, scientific observation, results interpretation, and specific areas of interest.

Lead and contribute to safety initiatives through completion of safety audits, safety meetings, project reviews, chemical audits and peer review processes.
What is required for this role?
Bachelor of Science in Engineering degree required. Major in Chemical, Mechanical or Industrial Systems preferred.

EIT status or eligibility to obtain EIT status.

Process engineering, industrial, research and/or mining experience is an asset.

Engineer I : 0-1 year of related experience.

Engineer II : 1-3 years of related experience.

Requires excellent interpersonal and communication skills and the ability to relate to operations personnel and contractors.

Need to be creative and highly motivated.

Proficiency in Microsoft Office programs and Statistical Software.

AutoCAD/mechanical design programs is an asset.

Willing/able to travel to the other mine sites within Canada and the United States.

Employment is subject to successfully completing Mosaic's pre-employment checks including criminal, drug and alcohol testing.

Must be authorized to work in Canada.
Mosaic is an Equal Opportunity Employer that values the strength diversity brings to the workplace, and strives to achieve a representative workforce in Canada.
We Help the World Grow the Food it Needs - Apply today and join our team!
The Mosaic Company
The Mosaic Company is the world's leading integrated producer and marketer of concentrated phosphate and potash. We employ more than 15,000 people in six countries and participate in every aspect of crop nutrition development.
We conduct our work with integrity and excellence, and we strive to be a thoughtful neighbor in each of our operating communities. We use our financial resources, expertise and innovative spirit to demonstrate our shared commitment to good corporate citizenship.
The Mosaic Company (NYSE:MOS) is a Fortune 500 company headquartered in Tampa, Florida.
Career Opportunities
At Mosaic, we believe success comes when we make smart choices about our stewardship of the environment, how we engage our people, and the way we manage our resources. We're committed to maintaining a safe, healthy and respectful work environment for our workforce. And we're dedicated to ensuring Mosaic is a place where people are proud to work and grow.
Mosaic is always looking for bright, passionate individuals who are motivated by our purpose, and who want to build their careers with a global leader in agriculture. We offer a competitive salary and benefits, as well as meaningful career development opportunities.