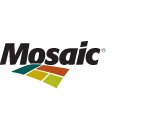 The Mosaic Company

IT Business Analyst Sr

in

Regina

,

Saskatchewan
Who is Mosaic?
The Mosaic Company (www.mosaicco.com), NYSE: MOS, headquartered in Minneapolis, Minnesota, is a $10 billion company that stands alone as one of the world's leading producers of concentrated phosphate and potash crop nutrients. Our world-class mining and processing operations produce the highest quality fertilizer and animal feed ingredients. As a global leader in nourishing crops and delivering distinctive value to the world's agriculture, Mosaic offers an opportunity to share in an exciting future.
What are our Values?
We consider our employees to be our most valued ingredient. Mosaic employees are richly diverse in their skills, experience and backgrounds. From engineering, operations, finance, HR, marketing and research, our team came to Mosaic not just for a job but a career that makes a positive impact on the world by nourishing the crops our growing population needs.
Are you our next Team Member?
We are currently seeking an IT Business Analyst Senior at our Regina, SK location. The successful candidate will provide subject matter expertise in the areas of Potash Operations and associated IT systems while providing solution alternatives and estimates, gathering and interpreting of requirements, and designing, documenting and delivering solutions. In addition, this role is responsible for providing ongoing support for applications used in support of Potash Operations.
What will you be working on?
Provide subject matter expertise in the areas of Potash Operations and associated IT systems. Responsible for requirements elicitation and documentation, functional design/configuration, testing scenario development, migration planning, and Hyper Care for scheduled projects and enhancements.

Work with Manager, IT Potash Solutions, key users, and other business analysts to establish business cases, project estimates and solution alternatives in support of the operations processes. Work with Manager, IT Potash Solutions to develop best practices relating to requirements definition, process/solution design, and solution implementation (delivery).

Prepare and/or review project proposals/business cases in the area of solution design and alternatives. This also includes collaborating with the business to better understand the requirements and improvement potential in identified opportunities.

Document final solutions, which will include knowledge transfer to training resources, Quality Assurance and Applications Support. Actively participate and represent the Potash Operations Solutions Team in all release planning and change control/change management activities.

Provide ongoing application support. Other projects and job duties as assigned.
What is required for this role?
High school/GED required.

Associate's degree or diploma in Business, Marketing, Finance, Supply Chain, Computer Science or Engineering required (Computer Science or Engineering preferred).

Bachelor's degree preferred. For those candidates without a bachelor's degree, 5+ years of relevant Mosaic experience is required

Background in chemical or mining industries an asset.

Project Management, Process Management, Business Analyst or Software Development Life Cycle Certifications is preferred.

5+ years of experience in Information Technology roles.

For those candidates without a bachelor's degree, 5+ years of relevant Mosaic experience is required.

3+ years of hands-on project experience in the design, configuration/development and delivery of business process solutions.

3+ years of Operations or EH&S business function experience is preferred.

2+ years of hands on support of Operations applications is preferred.

Proven in defining solution strategies, building business cases, analyzing systems requirements, developing process maps and swim lanes, designing and prototyping solutions, defining testing requirements, defining support procedures, and implementing practical solutions.

Experience with Operations processes and enabling technologies. Excellent understanding of other core and enabling processes and technologies.

3+ years of experience with Oracle databases, PL/SQL, SQL Server and Net programming is preferred.

Experience with Microsoft Office, Word, Excel, PowerPoint, and Visio.

Strong verbal, written, listening and presentation communication skills.

Strong organizational skills and attention to detail.

Strong interpersonal and teamwork skills.

Ability to present and discuss technical information in a way that establishes rapport, persuades others, and gains understanding.

Ability to work with employees at all levels of the organization.

Ability to adapt to a continually changing business and work environment and manage multiple priorities.

Demonstrated problem solving techniques, strong analytical skills, critical thinking and decision making skills.

Employment is subject to successfully completing Mosaic's pre-employment checks including criminal, drug and alcohol testing.

Must be authorized to work in Canada.
Mosaic is an Equal Opportunity Employer that values the strength diversity brings to the workplace, and strives to achieve a representative workforce in Canada.
We Help the World Grow the Food it Needs - Apply today and join our team!
The Mosaic Company
The Mosaic Company is the world's leading integrated producer and marketer of concentrated phosphate and potash. We employ more than 15,000 people in six countries and participate in every aspect of crop nutrition development.
We conduct our work with integrity and excellence, and we strive to be a thoughtful neighbor in each of our operating communities. We use our financial resources, expertise and innovative spirit to demonstrate our shared commitment to good corporate citizenship.
The Mosaic Company (NYSE:MOS) is a Fortune 500 company headquartered in Tampa, Florida.
Career Opportunities
At Mosaic, we believe success comes when we make smart choices about our stewardship of the environment, how we engage our people, and the way we manage our resources. We're committed to maintaining a safe, healthy and respectful work environment for our workforce. And we're dedicated to ensuring Mosaic is a place where people are proud to work and grow.
Mosaic is always looking for bright, passionate individuals who are motivated by our purpose, and who want to build their careers with a global leader in agriculture. We offer a competitive salary and benefits, as well as meaningful career development opportunities.